BEHIND NME LINES
A Photography Exhibition Celebrating 60 Years Of NME Cover Shots
Behind NME Lines was a unique photography exhibition experience that showcased the greatest, most iconic and most controversial covers in NME's incredible 60-year history. A combination of impactful images and coverlines (or in some cases, the lack of them) came together to create a striking statement that spelled out the mission of the magazine while also documenting the moment it was created as a snapshot of modern times. Live music events ran alongside the exhibition.

Date 12 days, September/October 2012
Location A new build meanwhile space before occupancy, NEO Bankside, 50 Holland Street, London, SE1
Curated and Produced by Illuminate Productions and IPC media in partnership with Better Bankside and Tate Modern.

Supported by Native Land, Arts Council England.
Key coverage total reach 3.6 million. Media included: Metro, Time Out, The Evening Standard, NME, The Guardian, The Londonist, London Calling, Visit London, The Quietus, InSE1 and View London.
About NME
Launched in 1952, NME is the world's most famous music magazine, a legacy that has been built on unrivalled passion, knowledge, access and of course, countless unforgettable covers that are now as much a part of music history as the artists that feature on them.
From Kevin Cummins' paint-splattered The Stone Roses and Dean Chalkley's bittersweet Amy Winehouse tribute, to Pennie Smith's bold announcement that The Strokes had landed to Ellis Parrinder's celebration of a naked Beth Ditto, these are the covers that have defined not only the artists, but 60 years of rock'n'roll, NME itself and the readers whose lives they changed forever.
Today the magazine is web-based and no longer in print.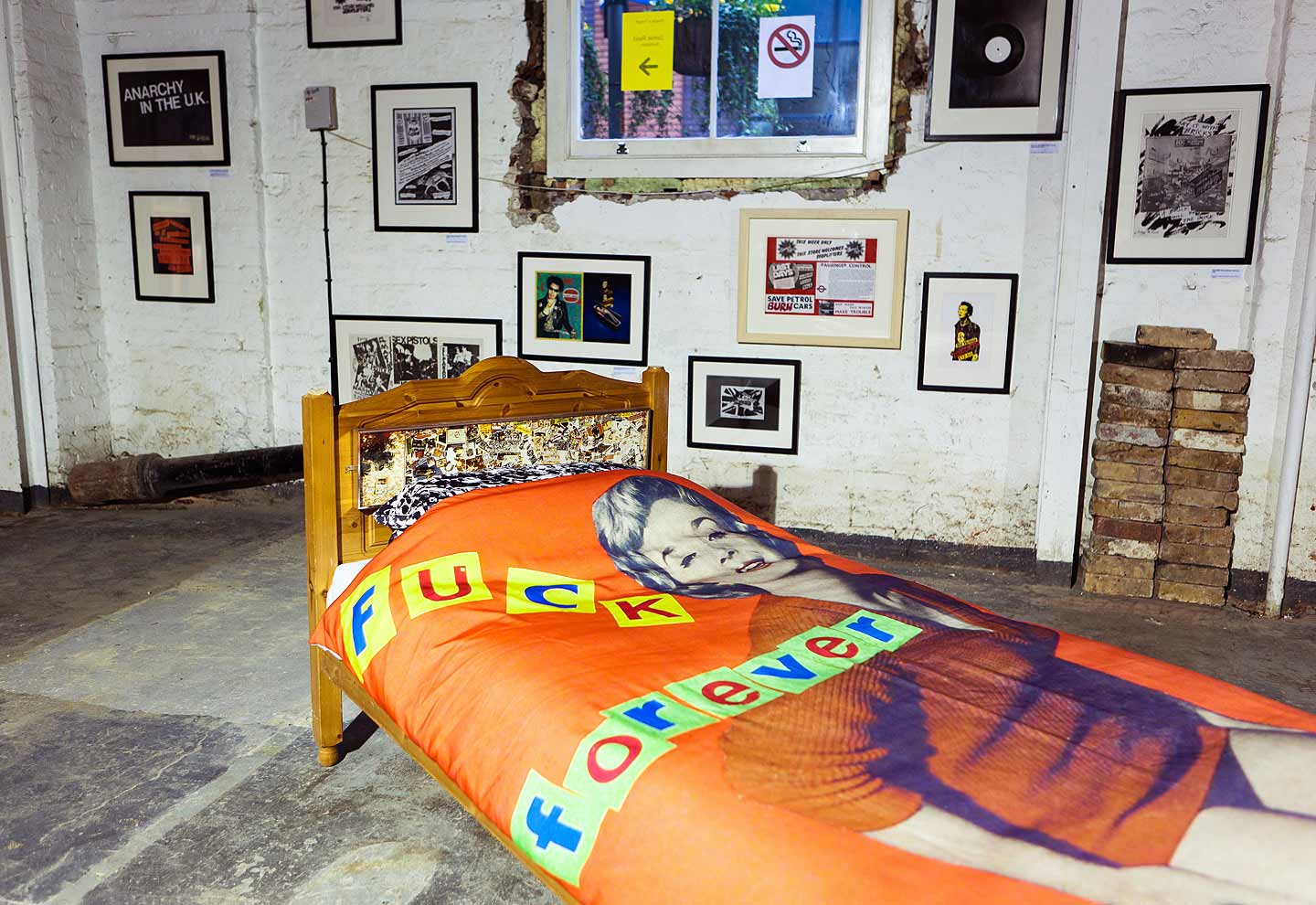 PEACE IS TOUGH
A Show To Coincide With The 35th Anniversary Of The Release Of The Sex Pistols' Debut Single, Anarchy In The UK by Jamie Reid
Jamie Reid chose Illuminate Productions to exhibit his largest single presentation of original works associated with punk legends The Sex Pistols, some of which had never been seen before, and also the infamous Suburban Press collages. Reid's Archive span decades, from college plotting through punk to protest graphics. The exhibition included original collage work, drawings and paintings, bromides, proof prints and photographs from the 1970's onwards. Events including live music nights and an artist talk.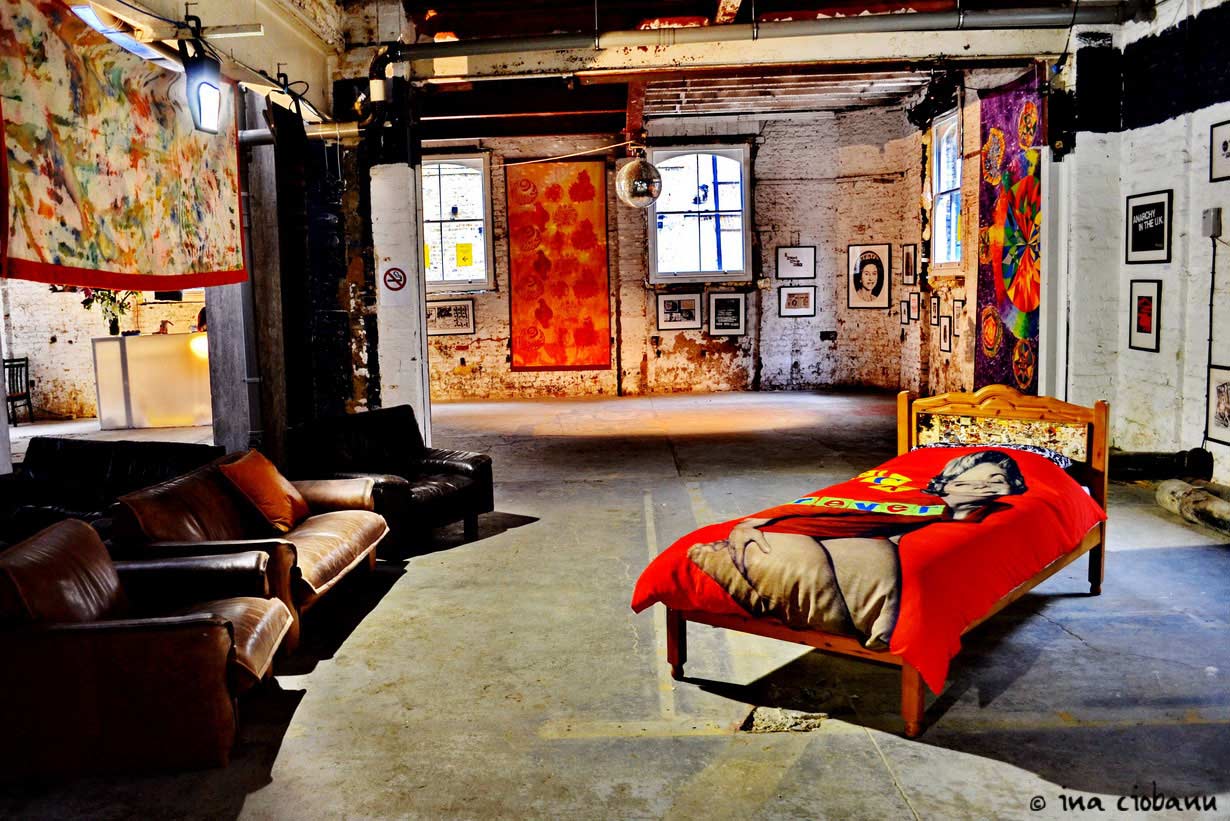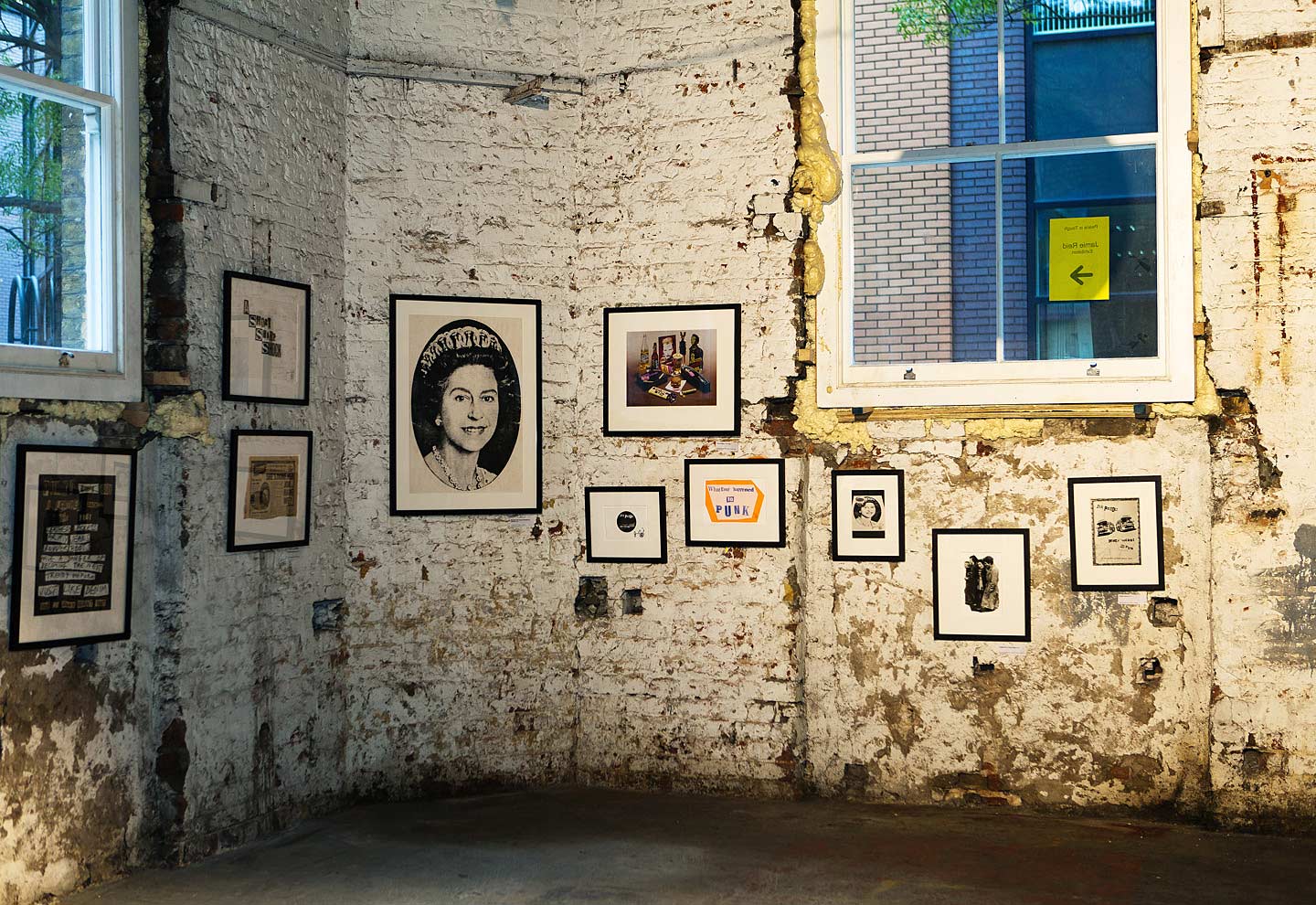 Date 20 days, October/November 2011
Location A meanwhile space, The Bear Pit, Bear Gardens, Bankside, SE1
Curated and Produced by Illuminate Productions and John Marchant Gallery, in partnership with Better Bankside and Tate Modern.

Supported by Arts Council England.
Key coverage total reach 80 million. Media Included: The Telegraph, Metro, Time Out, Evening Standard, NME, The Guardian The Londonist, London Calling, Visit London, The Quietus and London Calling.
About JAMIE REID
Jamie Reid is a British artist best known for his décollage covers of the Sex Pistols' albums Never Mind the Bollocks and Here's the Sex Pistols, as well as their singles Anarchy in the U.K. and God Save the Queen. A self-described anarchist, Reid's cover art helped define the aesthetic of the British punk movement with its faux-ransom-note letters and iconoclastic defacement's of pop culture and nationalistic images. Born in London, United Kingdom, he went on to attend the Croydon Art School where he met the future manager of the Sex Pistols, Malcom McLaren.
Reid has maintained an active role in politics through zines and other media, his works can be found in the collections of The Museum of Modern Art in New York, the Victoria and Albert Museum in London, and the Tate Gallery in London, among others.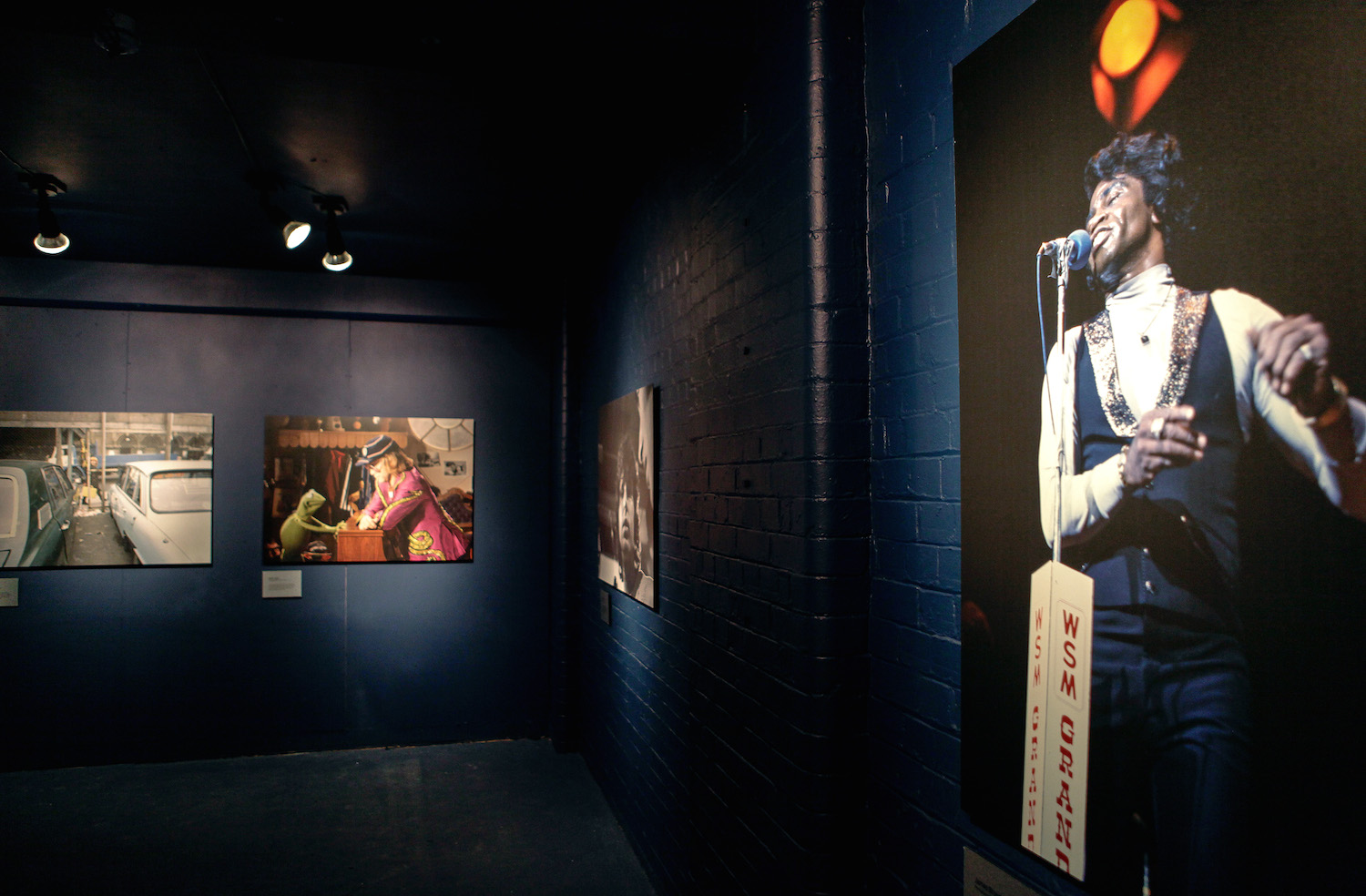 INTERPLAY
In Celebration Of TV Times' 60th Anniversary
In celebration of TV Times' 60th anniversary and as part of MERGE Bankside 2015, TV Times showcased exclusive images from its vast archive. An amazing collection from six decades, many of these images had never been seen before and they were shown across two venues in the Bankside area.
This was an extensive selection of never before seen images of the biggest stars of music from the 60s through to the early 80s including James Brown, Sister Rosetta Tharpe, Muddy Waters, Marlene Dietrich, Kate Bush, The Small Faces, The Beatles, The Doors and many more.
Shot by some of the greatest British photographers including David Bailey, Cecil Beaton and Patrick Lichfield, the photographs showed both the hype and excitement that occurred around star's appearances - in unguarded moments, both behind the scenes and in the spot-light. This was an exclusive insight into iconic musicians and their interaction with audience's and each other.

Date 15 days, September/October 2015
Location A meanwhile space in a disused cork factory, Platform Southwark, 1 Joan Street, SE1
Curated and Produced by Illuminate Productions, in partnership with Better Bankside and Tate Modern.
Supported by Arts Council England and U+I.

Key coverage total reach 500 million. Media included: Good Morning Britain, ITV News, BBC News, SKY Sports, Capital FM, The Telegraph, Daily Mail, Time Out, Evening Standard, The Guardian and The Sun.
About TV TIMES
TVTimes is a television listings magazine that launched in 1955 at the start of transmissions of ITV. It became a national magazine in 1968, published in the UK by TI Media, and known for its access to television actors and their programmes. In 1981 it was briefly re-branded as TVTimes Magazine, the premise being it contained more than simply television listings. In 2006 it was refreshed for a more modern look, increasing its emphasis on big-star interviews and soaps.
THE ART OF PUNK
A Book Launch Event To Celebrate Punk Art And Design
An evening featuring live music (from The Pukes), film, visuals and discussions around the Punk movement, inspired by the book of the same name written by Russ Bestley and Alex Ogg. It included an exclusive first-look clip of Good Vibrations, directed by Lisa Barros D'sa and Glenn Leyburn - a feel-good story of how a record shop set up at the height of the Troubles in 1970's Belfast helped bring the ruined city back to life.
The Art of Punk highlights the evolution of the punk movement within graphic design and print, while also considering its impact on fashion and popular culture. A chronological 35 year journey through punk artwork it celebrates a wide range of punk posters, flyers, cover art, fanzines and fashion ephemera.
Famous graphics for legendary bands like the Ramones, the Sex Pistols, the Damned, Misfits and the Clash are included. It also features all the big names in the Punk movement including Jamie Reid, Arturo Vega, Dexter Dalwood, Banksy and more.
Location: The Starr Auditorium, Tate Modern, Bankside, London SE1 9TG
Date: October 2012

About THE WRITERS
Alex Ogg is an author and journalist whose books include The Hip Hop Years, No More Heroes and Independence Days. He has contributed to The Times, Vive Le Rock, Classic Rock and award-winning website The Quietus. The former editor of Spiral Scratch, he is a regular speaker on TV, radio and at literary events. He has lectured at several universities and currently edits the academic journal Punk & Post-Punk.
Russ Bestley has co-authored and designed a number of publications, including Visual Research and Up Against the Wall: International Poster Design and has contributed to journals including Eye, Zed, Émigré, The National Grid and Punk & Post-Punk. He is a principal lecturer at the London College of Communication specialising in graphic design and the history of popular culture.