NEVER RECORDS
An art installation in the guise of a classic walk-in record store by Ted Riederer
NEVER RECORDS acts as a functioning record store, an art installation and on-line music library. It explores the potential of using a record store and record label to unite, educate and uplift a community through recorded sound.
In 2011, Illuminate Productions brought the critically-acclaimed multi-media project Never Records to London. This designed mock record shop only stocked records pressed in store and the public were able to book a free 3-hour recording session, with no auditions necessary.
Using microphones and a specialist vinyl-cutting turntable at one end of the 'store', Ted Riederer recorded musicians on the spot, mixing on the fly and cutting straight onto vinyl in front of the performers, before giving them a freshly-pressed 12-inch record. Making only two records, one was given to the recording artist; the other was stocked in the Never Records shop to become a permanent exhibit in the store to be played by visitors on the store turntables.
Posters and artworks covered the shop walls and individually-designed record covers were designed by the artist, as well as by other artists such as Scott King and the legendary Ramones art director, Arturo Vega, who also designed a t-shirt for the installation.
A gallery of photographs, artworks and flip through vinyl represented the hundreds of folk artists, punk bands, storytellers, jazz bands and 'noisicians' recorded on site. Live music events included a special collaboration with Philip Jeck, the artist and musician renowned for his soaring soundscapes, using vintage turntables and electronics.
This was the fourth appearance of NEVER RECORDS since its beginnings in an old Tower Records Store in New York City, its presence at the Biennial Arts Festival in Liverpool, UK, in 2010 and at the Context Gallery in Derry in May 2011. After London it travelled to Kansas City, Amman Jordan, Texas and New Orleans gathering momentum and records along the way.
The Never Records archive is still growing and has the potential to travel the world over.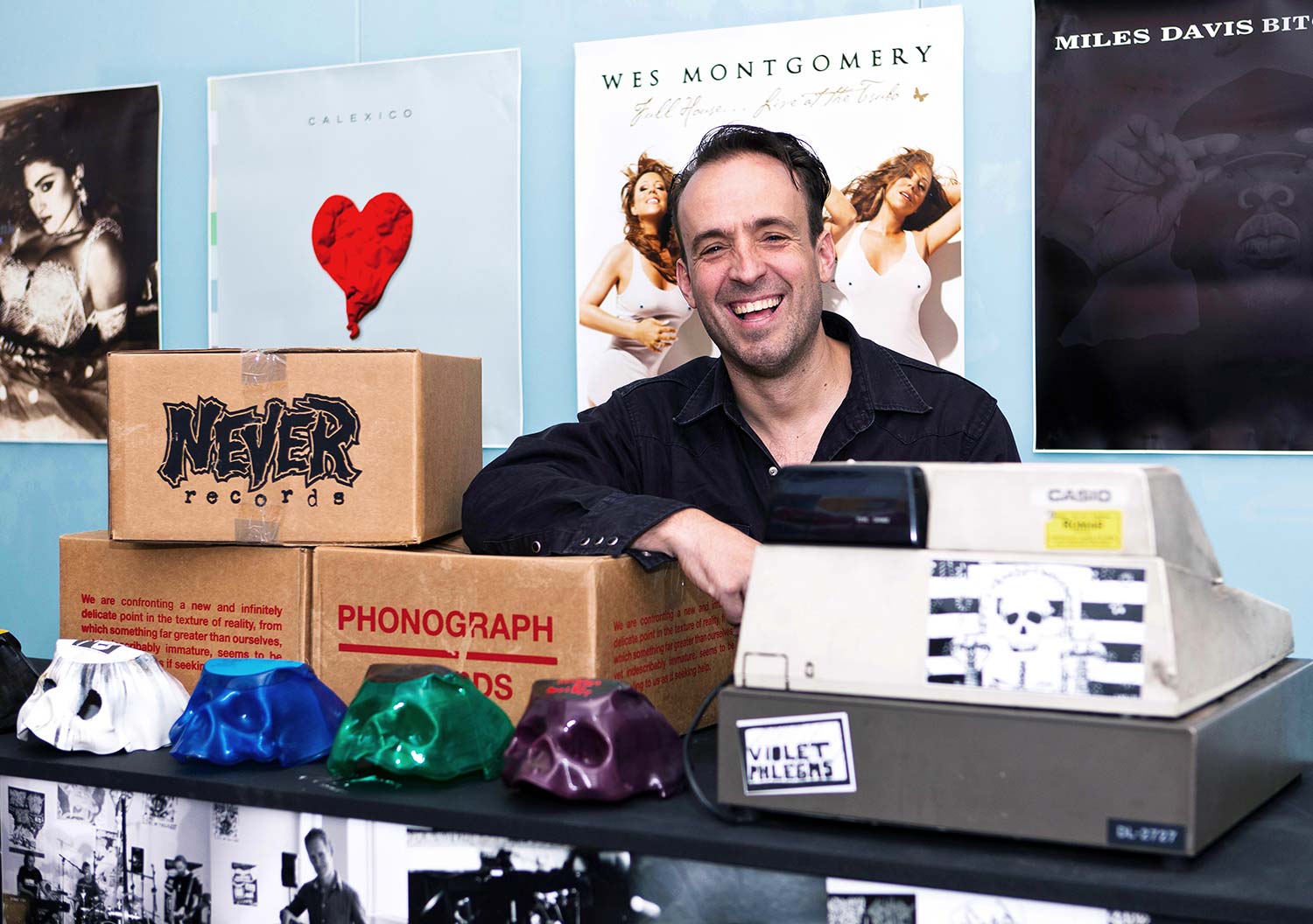 Date 46 days September/November 2011
Location An empty shopfront before redevelopment, 11 Southwark Street, London Bridge, London SE1
Commissioned and produced by Illuminate Productions in partnership with Better Bankside and Tate Modern For MERGE Bankside.

Supported by Arts Council England.
Key coverage total reach 3 million.
Media included: The Evening Standard, Time Out Critics Choice, Metro, NME, The Londonist, Visit London, View London, Weekend Notes, Londonist and The Quietus.
Ted Riederer
A "one-time refugee from punk and sometime band member," Ted Riederer armed himself with painting supplies, electric guitars, amplifiers, old LPs, record players, drum kits, hard disk recorders, photography equipment, a vinyl record lathe, and long-stemmed roses as he's ambled artistically from the Americas to the Antipodes.
His work has been shown nationally and internationally including exhibitions at PS1, Nicole Klagsbrun Gallery, Jack Hanley Gallery (San Francisco), Context Gallery (Derry, Ireland), The University of South Florida Contemporary Art Museum and the Dhaka Arts Center, Bangladesh. Ted Riederer is the Founding Artistic Director of Howl! Happening: An Arturo Vega Project, non-profit gallery/performance space in the East Village. The New York Times has described Howl! Happening as, "Instrumental to the history of the area." Howl! Happening's thriving publishing imprint A/P/E has included essays by: Ai Wei Wei, Dan Cameron, Anthony Haden-Guest, Robert Nickas, Michelle Grabner, Michael Musto, C. Carr, Nicole Rudick, John Lyons, and James Wolcott.